Ingredients
4-6 lb.

‏Corned Beef

4 tbl

‏Black Pepper, fresh coarsely ground

2 tbl

‏Coriander Powder

1 tsp

‏Mustard Powder

1 tbl

‏Brown Sugar

1 tbl

‏Paprika

2 tsp

‏Garlic Powder

2 tsp

‏Onion Powder

2 tbl

‏Extra Virgin Olive Oil
If you love a good pastrami deli sandwich on rye, this is for you.
Directions
DESALINATE
Put the corned beef in a pot and cover with cold water in the fridge for at least 8 hours. This will remove the excess saltiness.
RUB
Combine all the spices.
Rinse the meat and blot dry with paper towels.
Coat the meat with the olive oil and apply the rub liberally. Press it into the surface.
If possible, keep in the fridge unwrapped for 2 days. If you don't have time for this step, it will still come out great.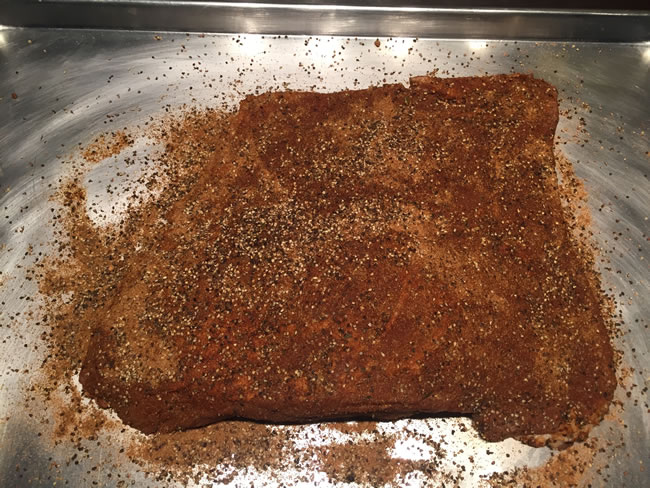 SMOKING
Setup your grill or smoker for indirect heat. Preheat to 250°F.
I used several small chunks of oak wood for the smoke.
Smoke as if it is a regular brisket. I used a water pan below the brisket.
Final temperature should be about 203°F. At the 160°F mark, wrap with foil or uncoated butcher paper. Cook time can be from 6-10 hours.
Keep loosely wrapped and let stand for about 1 hour before slicing. Cut against the grain when slicing.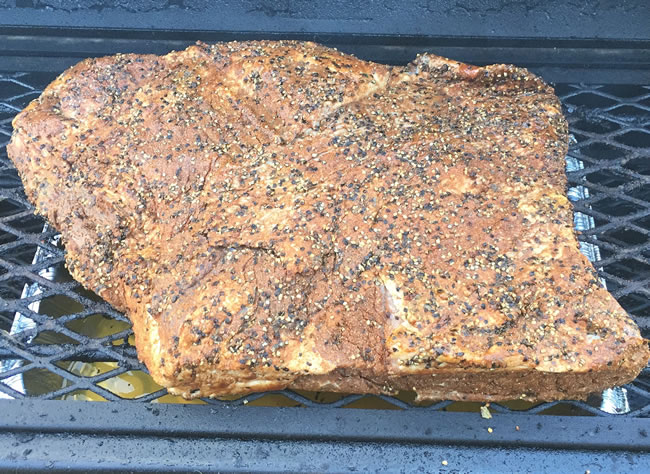 Recipe By
Jay Burrus